GREETINGS FROM THE GATHERING PLACE
E Komo Mai
Oahu!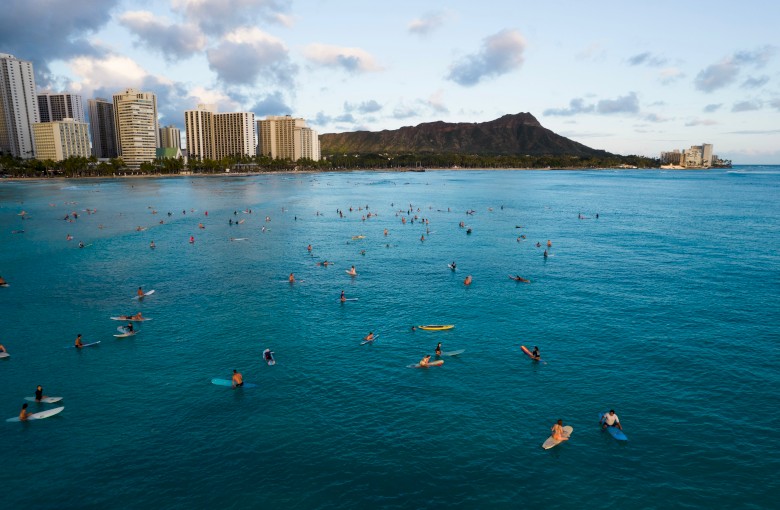 Oahu aka "The Gathering Place" is home to much of Hawaii's rich history and in the modern day, is home to the most populated city across the islands, Honolulu. With such an interesting mix of historic splendor and modern, cosmopolitan flare, Oahu has something for everyone. From historic sites like Iolani Palace or Pearl Harbor National Memorial to some of the most famous natural landscapes in the world like Diamond Head crater or the beaches of the North Shore, Oahu embodies the essence of Hawaii, new and old.
History Meets Modernity
Oahu Sights.
Destination Guide
Wander Oahu.
The North Shore: Learning to Surf Among Legends

Hang loose and ride the wave. Perfect curls do exist and they're located on the North Shore of Oahu. Attracting both the world's greatest surf athletes and curious surfing rookies from around the world, this seven-mile stretch is a place of legends, offering waves for paddlers of all experience levels.

Read More

Coming Soon: The Best Sweet Treats of Waikiki

Sugar lovers, rejoice. You've found your paradise. Hawaii is known for its embrace of food across also aspects of culture and this includes never skipping an opportunity for dessert. From classic island dishes like shave ice to indulgent dishes such as soufflé pancakes, every day in Waikiki is extra, extra sweet.

Coming Soon: A Day of All Things Diamond Head

Contributing to one of the most formidable skylines in the country, Diamond Head's iconic stature blends with Honolulu's cosmopolitan silhouette, just beyond Waikiki. Diamond Head is a volcanic cone on the Hawaiian island of Oahu and is the most popular Hawaii State Park. Whether you're taking to the trail to conquer Diamond Head by foot, or taking a boat ride to marvel from the sea, a day of all things Diamond Head is as classic as it gets.